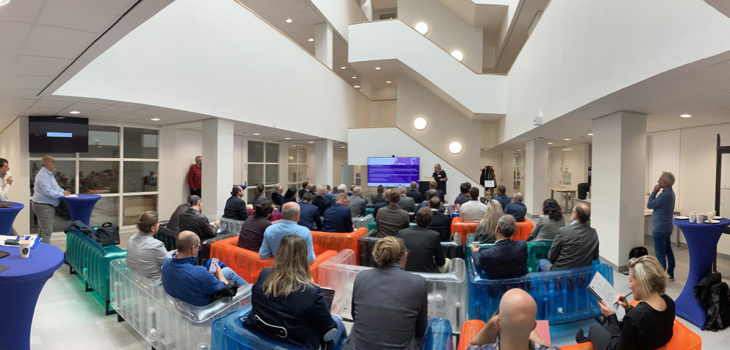 On 29 April, the 3rd IAB (Industry Advisory Board) for the combined projects ETpathfinder, E-TEST and ET2SMEs, took place at the ETpathfinder facility in Maastricht.
The meeting room was at full capacity, with 80 participants. After the coffee with "Limburgse vlaai", the attendants had a nice introduction of the current project(funding) ecosystem around ET in the EMR region, with the recently announced Dutch Groeifonds reservation as climax. After that an overview of the current status, challenges and tenders of the connected projects was presentend.
Companies and researchers (and between companies) had the chance to talk about opportunities and new initiatives for collaboration were born. This, and informing industry in the EMR region, is the main reason to organise such meetings.
After lunch there were four parallel sessions with more in-depth information exchange on still broad topics. The sessions had a mix of company pitches and lively interaction on the challenges.
The pleasing long lunch time gave ample time to talk and meet new and old connections.
Finally, everyone had the opportunity to view the ETpathfinder setup from the visitor room. Most people were impressed with the opportunities this research facility offers and how nice it looks from the visitor room. All this made the 3rd IAB a fruitful event.